Europe faces 'greatest terror threat ever' from jihadists in Iraq and Syria – CNN
.cnn_html_media_utility::before{color:red;content:'>>';font-size:9px;line-height:12px;padding-right:1px}
.cnnstrylccimg640{margin:0 27px 14px 0}
.captionText{filter:alpha(opacity=100);opacity:1}
.cnn_html_slideshow_media_caption a,.cnn_html_slideshow_media_caption a:visited,.cnn_html_slideshow_media_caption a:link,.captionText a,.captionText a:visited,.captiontext a:link{color:#004276;outline:medium none}
.cnnVerticalGalleryPhoto{margin:0 auto;padding-right:68px;width:270px}
]]>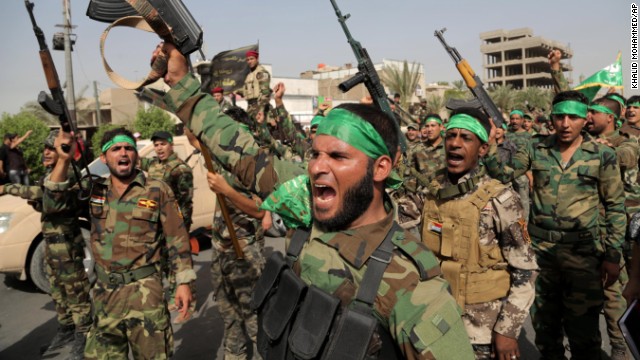 Volunteers raise their weapons and chant slogans during a parade in the Shiite stronghold of Sadr City, Baghdad, on Saturday, June 21. Vast swaths of northern Iraq, including the cities of Mosul and Tal Afar, have fallen as the Islamic State in Iraq and Syria, or ISIS, advances toward Baghdad, the capital. The ISIS militants want to establish a caliphate, or Islamic state, in the region, stretching from Iraq into northern Syria.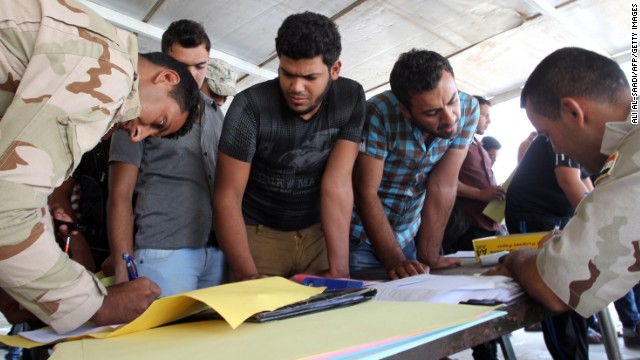 Iraqi men register to volunteer to fight alongside security forces against Sunni Muslim militants and jihadists on Friday, June 20, at a recruitment center in Baghdad.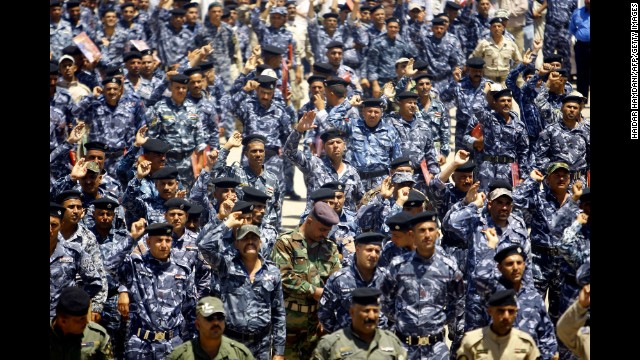 New Iraqi army recruits gather in Najaf on Wednesday, June 18, following a call for Iraqis to take up arms against Islamic militant fighters.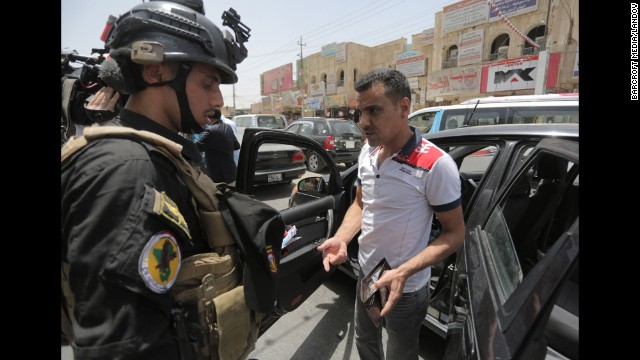 Soldiers with an Iraqi anti-terrorism unit are on guard June 18 in Baghdad.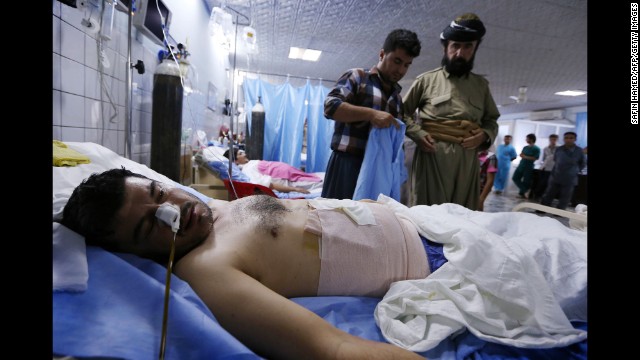 A Kurdish Peshmerga fighter injured in clashes with members of ISIS lies in a hospital in Irbil on June 18.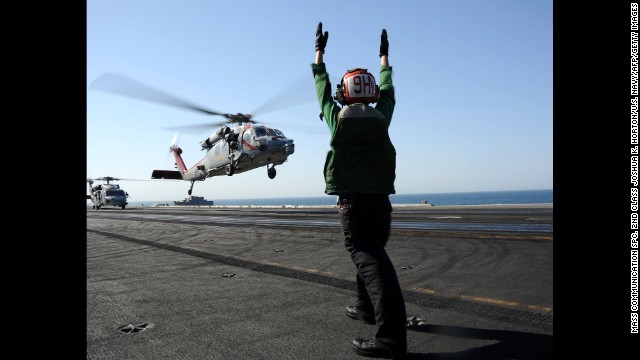 An MH-60R Sea Hawk helicopter lands on the aircraft carrier USS George H.W. Bush in the Persian Gulf on Tuesday, June 17. The carrier moved into the region to give President Barack Obama
"additional flexibility," the Pentagon
has said.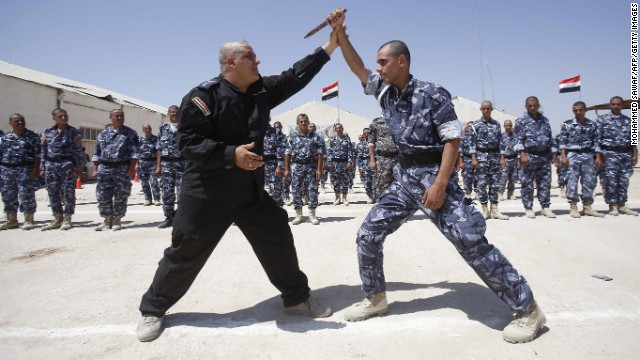 Newly recruited Iraqi volunteer fighters take part in a training session in Karbala on June 17.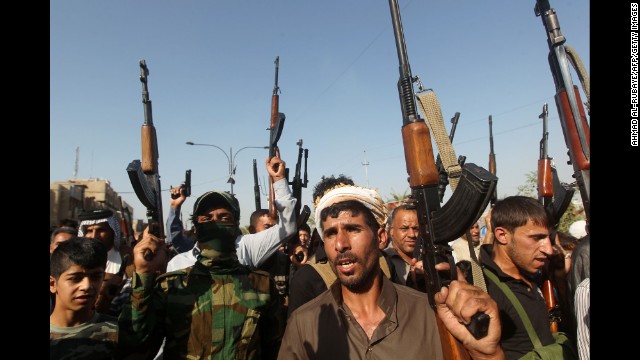 Iraqi tribesmen gather in Baghdad on Monday, June 16, to show their readiness to join Iraqi security forces in the fight against Islamic militants.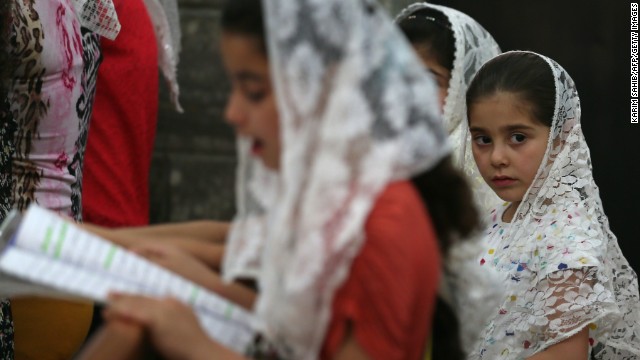 Iraqi Christian children gather inside the Church of the Virgin Mary for prayers in Bartala, Iraq, a town near Mosul, on Sunday, June 15. Militants seized Mosul last week, reportedly leading more than 500,000 people to flee Iraq's second-largest city.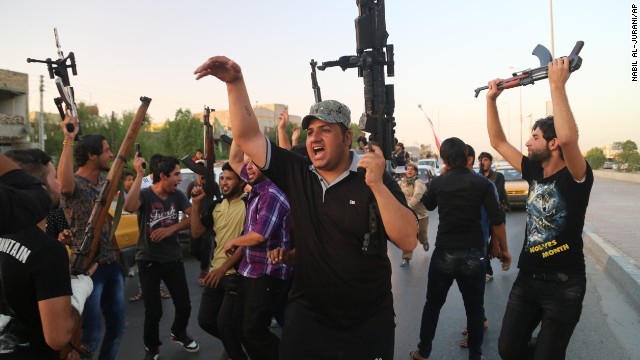 Shiite tribal fighters raise their weapons and chant slogans against ISIS in Basra, Iraq, on June 15.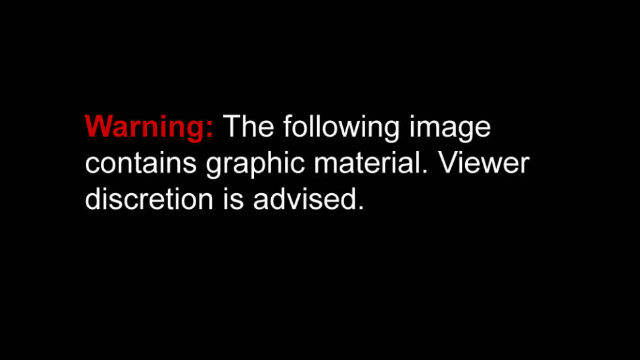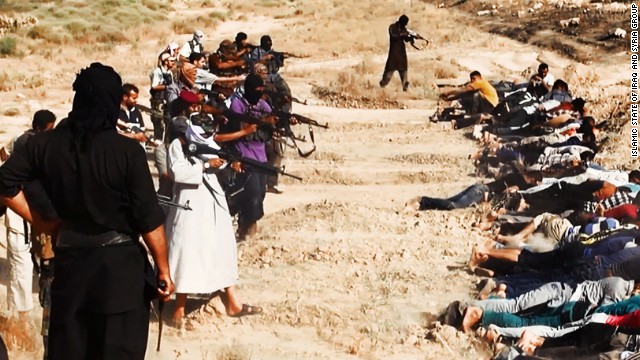 Members of ISIS prepare to execute some soldiers from Iraq's security forces in this image, one of many reportedly posted by the militant group online. CNN cannot independently confirm the authenticity of the images.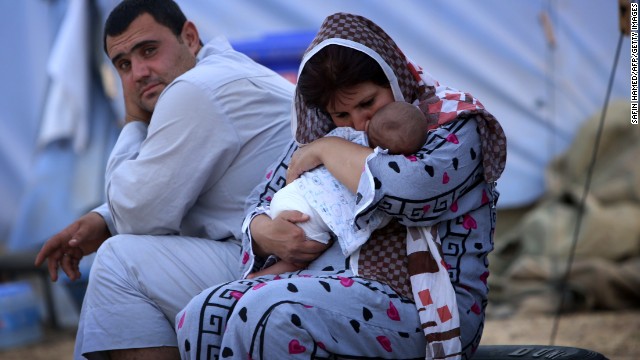 A woman cradles her baby Thursday, June 12, at a temporary camp set up in Aski Kalak, Iraq, to shelter those fleeing the violence in northern Nineveh province.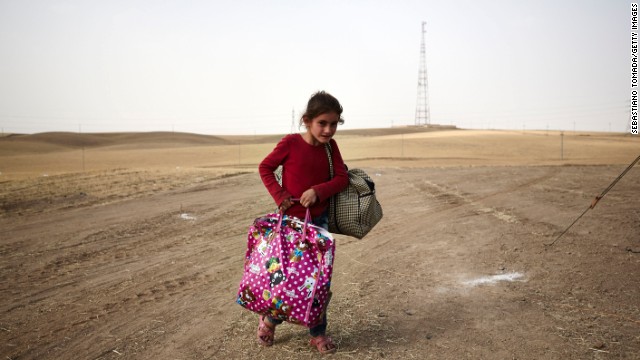 A girl fleeing from Mosul arrives at a Kurdish checkpoint on June 12.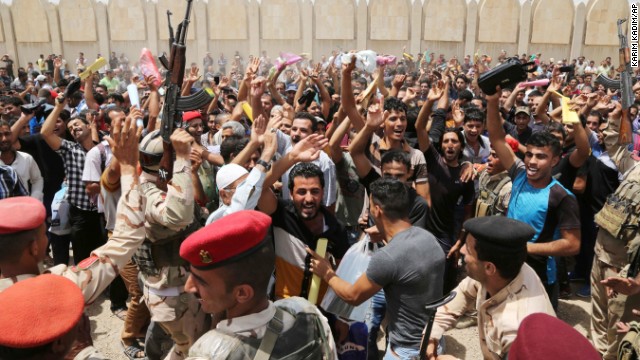 Iraqi men chant slogans outside of an army recruiting center to volunteer for military service June 12 in Baghdad.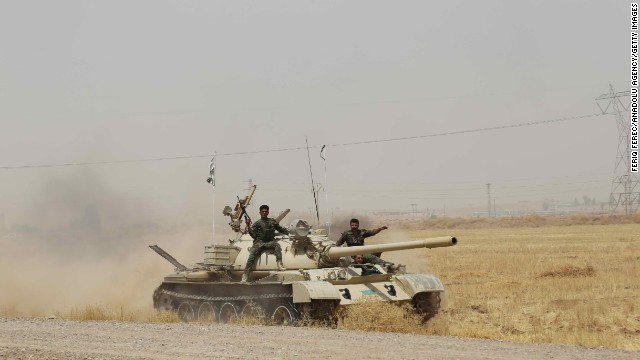 Kurdish Peshmerga forces, along with Iraqi special forces, deploy their troops and armored vehicles outside of Kirkuk, Iraq, on June 12.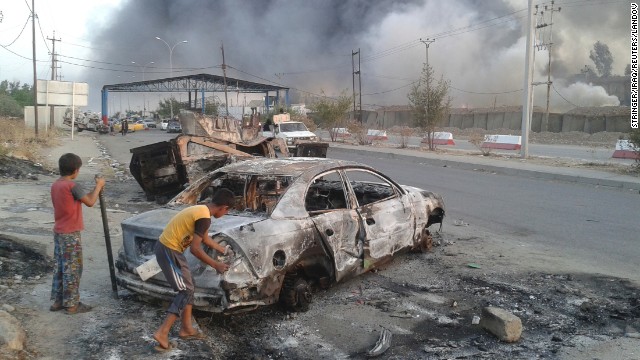 Children stand next to a burnt vehicle during clashes between Iraqi security forces and ISIS militants in Mosul on Tuesday, June 10.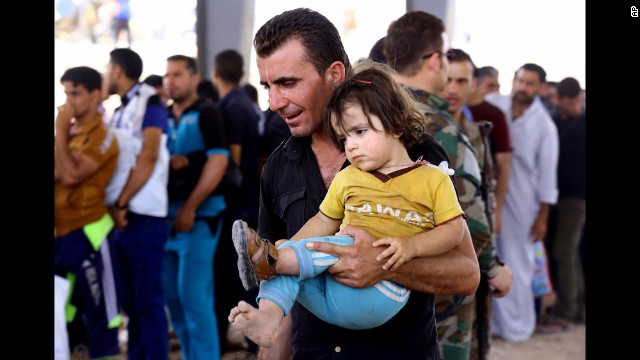 Civilians from Mosul escape to a refugee camp near Irbil, Iraq, on June 10.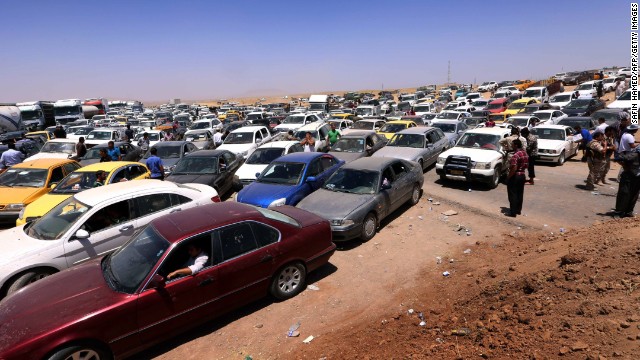 Iraqis fleeing the violence wait in their vehicles at a Kurdish checkpoint in Aski Kalak on June 10.
(CNN) — The city of Cannes on the French Riviera is best known as a hang-out of the rich, and for its film festival, not as a terrorist hide-out. But police recently swooped on an apartment on its outskirts — and discovered soda cans converted into crude bombs. The devices contained nearly one kilogram of the high explosive TATP — a substance used to make detonators in multiple al Qaeda bomb plots against the West in the years after the September 11, 2001 attacks on the United States.
The apartment was the home of a 23-year old man — named by prosecutors only as Ibrahim B — who had swapped online messages that talked of "punishing France." He had spent 18 months in Syria fighting with the al Qaeda affiliated Jabhat al Nusra before being arrested in February after returning to France.
The case of Ibrahim B is one of dozens in recent months involving European jihadists returning from Syria and Iraq, after joining groups like al-Nusra and the Islamic State in Iraq and Syria (ISIS) — gaining combat experience, training and an extremist mindset.
A European counter-terrorism official told CNN up to 300 veterans of the Syrian Jihad have already come back to Europe.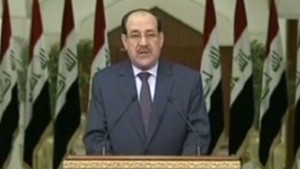 Does Iraqi prime minister have to go?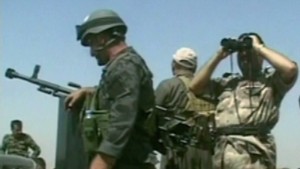 Iraq asks for U.S. aid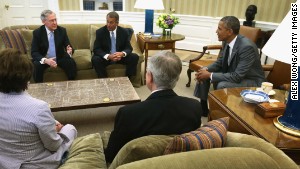 Obama prepares strike options in Iraq
"The threat of attacks has never been greater — not at the time of 9/11, not after the war in Iraq — never," the European counter-terrorism official told CNN. He envisaged a flood of small-scale but effective and chilling attacks.
Speaking to parliament in London Wednesday, British Prime Minister David Cameron said ungoverned space across a huge area must be closed down.
"We must do that not only in Syria, but in Iraq, Somalia, Nigeria and Mali, because these problems will come back and hit us at home if we do not," he said.
An early indicator of the potential threat came last month when a gunman opened fire at a Jewish museum in the Belgian capital, Brussels, killing four people. Authorities are investigating whether ISIS had a role in what was the first terror attack on Western soil linked to Syria.
The man accused of the murders is Mehdi Nemmouche, a French-Algerian extremist who travelled to Syria after being radicalized in a French jail, according to prosecutors. When French police arrested him a week after the attack they found a Kalashnikov wrapped in a flag with ISIS insignia in his possession.
Just hours after his arrest was made public a French ISIS fighter based in Syria tweeted that Nemmouche had fought with ISIS under the name Abu Omar al Firansi. The posting was then deleted, according to a senior Belgian counter-terrorism official.
It was the "strongest indication we have so far that Nemmouche was part of the ISIS but by no means proves it," the official told CNN. But he added: "We can't rule out that he was thinking of launching an attack even before leaving for Syria." ISIS has not claimed responsibility for the attack and Nemmouche has yet to enter a plea.
Aggravating the threat, according to a European-counter-terrorism official, is woefully inadequate intelligence-sharing in Europe. Nemmouche, a French citizen, was on a European watch-list. But he took precautions to try to mask his time in Syria — flying into Frankfurt from Bangkok in March after spending several weeks in south-east Asia.
German authorities informed French police when he arrived at Frankfurt airport. But Nemmouche traveled to Belgium, where authorities were unaware of his time in Syria. European Union treaties allow individuals to travel across much of the continent without showing their passport.
The official said a central European database was needed to track extremists leaving to and returning from Syria. He said European governments were beginning to understand the need for better collaboration.
There was a sign of that last weekend with the arrest of a French citizen, Tewffiq Bouallag, who arrived in Berlin from Istanbul last weekend. The day before his arrival, France issued an international arrest warrant for Bouallag (there was no such warrant for Nemmouche.) Bouallag had joined ISIS in Syria, according to postings on social media sites, and uploaded photos of himself and other ISIS fighters, encouraged others to follow his example and even indicated he was preparing to return to Europe.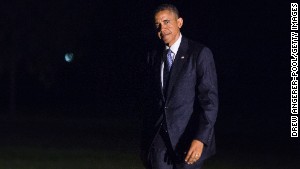 Can U.S. work with Iran on Iraq crisis?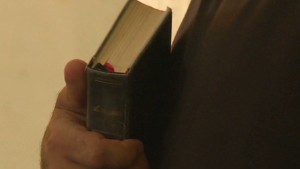 Iraqi Christians living in fear of ISIS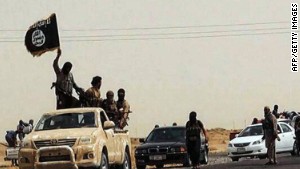 How did ISIS rise to power?
But scouring social media and jihadist forums is labor-intensive and demands language skills. And the most dangerous militants won't be so transparent about their intentions.
The numbers
European officials believe about 2,000 EU citizens have answered the call to jihad, including the wives of fighters. Perhaps 500 to 1,000 of them have joined ISIS, officials say.
France, Germany and the UK account for the largest numbers, all with hundreds of citizens fighting in Syria.
But in per capita terms more have travelled from Belgium than any other EU country. A Belgian counter-terrorism official says they are aware of 150 Belgian fighters in Syria — most of them with ISIS. Up to 15 more were leaving every month. About 35 are thought to have been killed, and 60-70 had returned home. Round-the-clock surveillance is impossible for all but a very small number because of the prohibitive expense.
Belgium has sizeable North African and Turkish Muslim populations and active radical groups such as Sharia4Belgium, some of whose supporters traveled to Syria back in 2012, laying the groundwork for more to follow and communicating with friends via social media to encourage them to make the journey.
One figure of particular concern is Azzedine Kbir Bounekoub — a Belgian in his 20s who is thought to be in Raqqa in Syria, ISIS' main hub, and who has called for further attacks in Belgium.
"May Allah raise up more young people who take the example of those who committed the attack in the Jewish museum … their blood, wealth and honor is halal for us," he wrote on his Facebook page on June 3.
The official told CNN that authorities were often playing "catch-up" — sometimes finding out about suspicious travel months after someone had packed their bags. Inevitably, he said, some escaped detection altogether. The task was made more difficult by the fact that a lot of Belgians go on vacation to Turkey.
European officials say there needs to be closer co-operation with Turkey, which should be given a list of people suspected of intending travel to Syria. Turkish authorities say such individuals should be prevented from leaving their countries of origin, but travel bans are often difficult to impose through the courts. Nor is travel to Syria illegal in itself; authorities have to show membership of designated terror groups or the intention to commit an act of terror in order to bring charges.
It's not solely a European problem either. A group of Canadians is known to be fighting for ISIS. One of them, Salman Ashrafi from Calgary, was eulogized after carrying out a suicide attack that left at least 19 people dead. And a young U.S. citizen became the first American to carry out a suicide bombing in Syria last month.
'Worse than al Qaeda'
As yet neither ISIS nor al-Nusra has shown any intention to export jihad to Europe, but militants returning home may need no encouragement, and may have bomb-making skills. Both groups carry out suicide bomb attacks on an almost daily basis.
"The worry is that Europeans in the group may out of their own initiative return home to launch attacks. The question becomes to what extent will the ISIS leadership try to control this?" said a European counter-terrorism official.
The extremist discourse in Europe is now dominated by ISIS, which "is winning the battle for hearts and minds much more than al Qaeda," thanks to its lightning offensive across Iraq, says the official. It's a replay of the jihadist fervor generated by al Qaeda in Iraq when it captured the city of Falluja in 2004.
"There's huge excitement on online jihadist forums," said the official. "It's a further catalyst for radicalization and could lead to a surge in travel flows."
Some militants return to Europe traumatized and frustrated by the brutality and infighting in Syria and appear to want no further part in jihad, according to counter-terrorism sources. But many would-be jihadists think nothing of brutal videos showing Shia getting their throats slit. And rather than being angered by specific events, such as the U.S. invasion of Iraq, they are motivated by an ingrained loathing of the West.
ISIS is beginning to tap into this vein. This week it issued a five-minute video in German entitled "Haya Alal Jihad" (Let's Go For Jihad) on its Twitter account. According to the SITE Intelligence Group, which monitors jihadist communications, a "voice that sounds like German jihadist Denis Cuspert (Abu Talha al-Almani) calls on Muslims to join jihad and seek martyrdom."
"Brothers, it's time to rise, set forth for the battle if you are truthful, either achieve victory or the shahadah [martyrdom]," the narrator says.
The call is being answered.
READ: 'Foreign Legion' in Iraq and Syria may bring jihad to West
READ: Opinion: How ISIS and Iraq upheaval threatens the wider world
READ: Syrian jihadists using Twitter to recruit foreign fighters
Europe faces 'greatest terror threat ever' from jihadists in Iraq and Syria – CNN