Google I/O: Android Interface, Cloud Advances Star – InformationWeek
Day one of Google I/O lacked skydivers but delivered new APIs, tools, and connectivity to push Google's mobile device and cloud capabilities forward.
Google revealed plans at its Google I/O conference Wednesday to ensure that Android devices work together more easily. It also delivered on what it said was a big investment in the design and user experience of the Android mobile interface. The unstated goal: make it more competitive with products from Apple.
As a whole, the 2014 event running this week in San Francisco had less flash and more hard work evident beneath the covers than some of its previous developer conferences. There was no sky diver with Google Glasses landing on the Moscone Center roof. If anything, the critiques of Google Glass have brought an elevated concern for the quality of design in Google products. Google this year showed a quiet determination to leave no stone unturned in competing for mobile users.
Google announced, for example, several additions to the user interface in Android L, the unnamed next release of the Android system, with Nexus tablet versions available immediately. With a new approach called Material Design, pixels in the user interface will not only indicate form and color but also depth. Shadows will give objects a three-dimensional air. Shading and lighting highlights will give a real time sense of objects moving through a field of light.
Simple, bold type will be used to label pages, and additional effects, such as a spreading ripple from a touched letter or symbol, will visually reinforce the touch action.
[Want to learn more about how Android Auto will help you drive? See Google I/O: A to Z.]
A series of cards on a screen, representing information sources, can be lighter or darker, depending on whether they are in use, most recently used, or unused. Google is offering "a unified set of guidelines to build a more beautiful, consistent user experience," said Google VP of Design Matias Duarte, sounding more like Apple's Jonathan Ive every minute. His only challenge will be in getting the diverse and sometimes fractious universe of Android developers to adopt them the same way.
The new user interface will also provide for the smooth flow of animations from one Android device to another, such as from smartphone to tablet to laptop.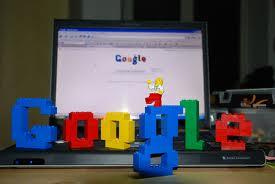 The user interface is also being updated for smoother device interconnection. Google wants developers to gain the benefit of developing a mobile application once and having its presentation work across many Android devices, from smart watches to phones, tablets, and Chrome laptops, and soon, TV screens. With Material Design, "you will be able to take the same design to different screens," with Android recognizing how a design must change to fit different screen sizes, Duarte said during the 2.5- hour keynote address.
Android-compatible set top boxes or smart TVs are coming from manufacturers this fall, and Google said the availability of the TV's big screen will change certain Android computing experiences. It's one thing to inspect a destination on Google Earth using a smartphone. It's another to show the route to a planned vacation destination on a big-screen TV, with the high-level view zooming over the ocean to a bunch of islands, then down to a particular resort on Maui.
The new user interface will include 5,000 new APIs that will connect Android devices to a broad set of services on the Internet and other devices. One of the new APIs can take a user from a Google search subject to a Google Earth application that offers a visual tour of the search object.
Android L version — a name like Lollipop will be given to it — is immediately available to developers for the Nexus 5 and Nexus 7 tablets.
Thursday also marks the release of the Android Wear SDK for developers who will use it to build applications for wearable computing, such as the three versions of an Android watch expected this fall or an existing LG G Watch and Samsung Gear Live, available in the Play Store. The main function of wrist computers will be to supply relevant bits of information forwarded from an Android phone, including notifications of calls, messages, news, or social network updates.
But another aspect of Wear will be to use sensors in the device that can be context aware, sending that information to the phone and linking to sources on the Internet that are relevant to the context. With smaller devices, the L user interface is also going to make it easier to move from a local application directly into a Web-based source of information.
During the keynote, Avni Shad, director of product management for Chrome, said, "We make it really easy to move to the Web from applications," illustrating the point by moving from OpenTable to the website

Charles Babcock is an editor-at-large for InformationWeek, having joined the publication in 2003. He is the former editor-in-chief of Digital News, former software editor of Computerworld and former technology editor of Interactive Week. He is a graduate of Syracuse … View Full Bio
Google I/O: Android Interface, Cloud Advances Star – InformationWeek